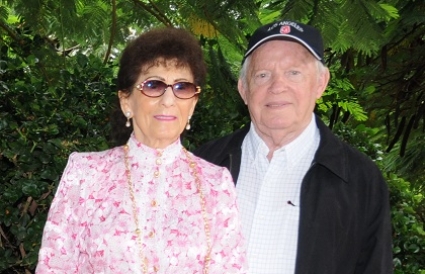 David and Fela Shapell
David Shapell (1921-2015) was a passionate supporter of Israel and the Jewish people, and was devoted to Holocaust remembrance and education. He was born in Wolbrom, Poland in 1921 to a deeply religious family. Most of his family perished in the Holocaust, except for his brother and sister. David escaped Poland and, until the end of the war, fought in the Polish army, which was under Russian control.
He met and married his wife, Fela, also a Holocaust survivor, after the war. They moved to the US in 1950, eventually settling in Los Angeles. In 1955, David, his brother-in-law, and his brother, Nathan, established Shapell Industries, a successful construction and real estate development company.
David Shapell served on the International Board of the Weizmann Institute and was a President's Circle member. The Shapell family's contributions to the Weizmann Institute include the David and Fela Shapell Family Holocaust Memorial Plaza, the David and Fela Shapell Family Center for Genetic Disorders Research, and the David and Fela Shapell Family Institute for Preclinical Studies at the Nancy and Stephen Grand Israel National Center for Personalized Medicine. David passed away in 2017, and his wife and children continue the family legacy.

David and Fela Shapell with their grandchildren, Weizmann Institute of Science, 2015